INTRODUCTION TO NEBOSH WORKING WITH WELLBEING
An entry level qualification called "Working with Wellbeing" examines workplace wellbeing on both an individual and organizational level. It uses real-world case studies and is applicable to any type of business in any industry. The course outline and related workbook are based on actual research. On completion of the course, your learners will:
understand what wellbeing is and why it matters;
understand how wellbeing can be improved (including use of the NEBOSH 'wellbeing tree'); and
be able to intervene to improve wellbeing in the workplace.
This certificate is an excellent option for you if you want to make a positive impact on wellbeing at work. It is especially pertinent to HR experts, health and safety professionals, and those who have responsibility for people management.
Your organization and your staff will benefit from investing in excellent health. According to research, being in excellent health can:
Reduce staff turnover
Reduce sickness absence
Reduce accidents and injuries
Increase employee satisfaction and engagement
Increase productivity.
Throughout the qualification learners identify initiatives that can make a real difference in your workplace.
Based on research and best practice, Working with Wellbeing provides a holistic approach that is relevant for any
sector, anywhere in the world. It covers:
what 'wellbeing' is and why it matters
the different factors that can positively and negatively impact wellbeing
the benefits of achieving good worker wellbeing
practical initiatives that can improve wellbeing
how to measure the effectiveness of wellbeing initiatives.
The certification describes the concept of the NEBOSH "Wellbeing tree," which takes into account six essential components of wellbeing: interaction, exercise, mindfulness, health, kindness, and learning. By taking part, you will acquire the information and self-assurance needed to have a good impact on the well-being of your employees.
The exam measures your comprehension of the material and your aptitude for applying it in the workplace. You will first examine the advantages and disadvantages of each workplace wellbeing area. You will next create a wellbeing intervention strategy for your company and outline how its effectiveness will be evaluated.
SYLLABUS SUMMARY, LEARNING OUTCOMES AND ASSESSMENT CRITERIA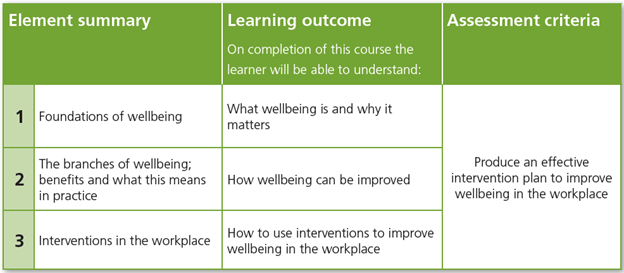 Our Tutors use the Virtual platform to support students around the world. Our messaging system and support forums are an excellent way to engage, where our tutors can provide expert support.